Proverbs 1:7 – "The Fear of the Lord"
---
Author Credit: Bro. Matthew George, Canefield Gospel Mission, Gospel Mission Assemblies of Dominica
---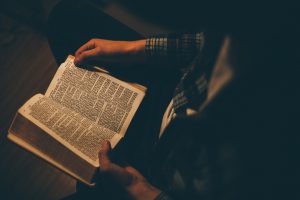 In his compilation of wise sayings or proverbs, Solomon immediately began by emphasizing the importance of the "fear of the Lord". He used that phrase as the foundation or origin of knowledge (Proverbs 1:7); wisdom (Proverbs 9:10 or Psalm 111:10).
"Fear" in this case refers to respect or reverence to some authority. Indeed, God is to be respected and revered (Psalm 34:11-16); even earthly rulers who are ordained of God need to be feared (Romans 13:1-4).
In Psalm 34:11, it must be noted that the fear of the Lord needs to be taught – it should be taught firstly at home. This is a parental responsibility. No wonder Solomon in directing such wise sayings (Proverbs) does it as a father to his children, since wisdom and knowledge must be learnt from childhood. All these teachings encompass the training which parents ought to give to their children.
It is important to note that even the sinner has good reason to fear God since God's punishment hangs over the sinner's head (Matthew 10:28).
We also saw in Proverbs 1:7 "… but fools despise wisdom and instruction."
This is the main characteristic of fools – they always think that they know it all. There is a saying about a fool which goes that way "He knows not, and knows not that he knows not, is a fool: shun him." It simply means that fools are void of wisdom and knowledge because they have not the fear of God in them.
Now, when one does not know God, who is omniscient (all-knowing or he knows everything), he or she will undoubtedly be controlled by the evil one (Satan). As a result, such an one is likely to get into trouble and problems very easily.
It is therefore not without significance that Proverbs 1:10 states "My son, if sinners entice thee, consent thou not."
This instruction is important because sinners do not have the Spirit of God in them and as such, they are likely to lead each other in the wrong way. Verses 15-16 reiterates that important advice, since one of the end results is stated in verses 18 and 19. This reminds me of the drug trade where the drug lords and others who are involved take one another lives at will and without remorse.
You are therefore exhorted to fear the Lord for He is a consuming fire (Hebrews 12:29); indeed, our God is a God of justice and judgment.
Not only so but praise God Proverbs 10:27 says: "The fear of the Lord prolongeth days, but the years of the wicked shall be shortened."
---